24th March 2023
HR Letter Request
Now you can create letters ( i.e Experience Letter, Salary Slip, Business Definition, and Vocational Letter). Dealing with letters is easier and more cost- and time-effective when your organization has access to custom HR Request templates.
Go to Setup >> Letter Template >> Select the letter type through master data.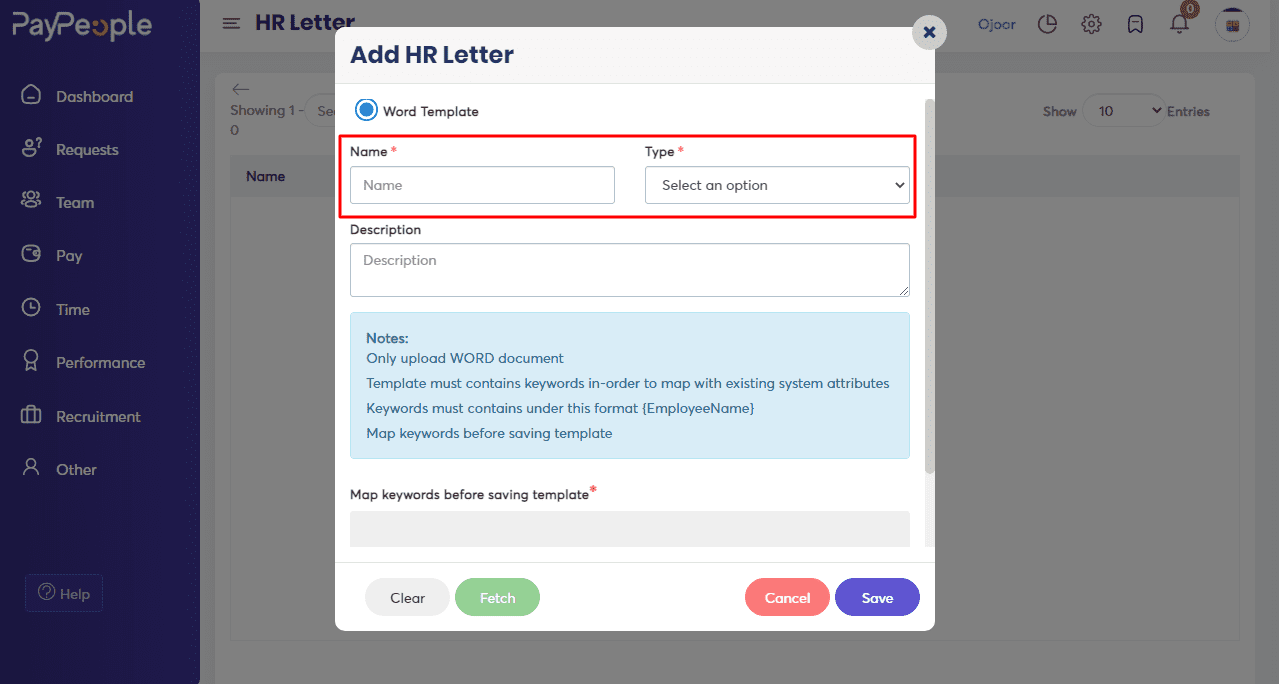 Once the template is configured your employees can request it. Before You
need to configure Workflow.
Then Go to Requests >> HR Letter Request >> Add Letter Request.
Fill in the Required Fields.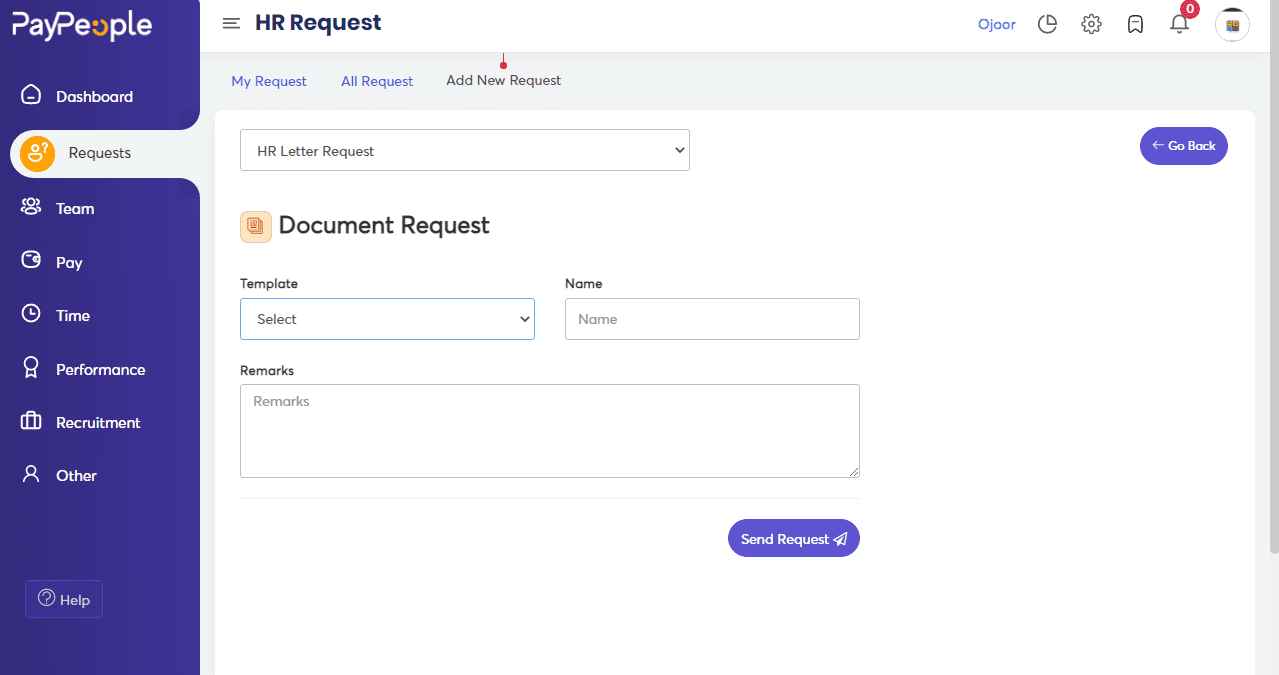 Location-based Payroll Processing & its approvals
With the implementation of our new payroll processing feature, we are now able to manage
payroll for multiple work locations based on an approval system. You can assign
rights and roles through the "Manage Roles" function in the setup.
Additionally, organizations can set up approval workflows to ensure that payroll is properly reviewed and approved by the appropriate personnel before being processed. This feature offers enhanced control and oversight over the payroll process.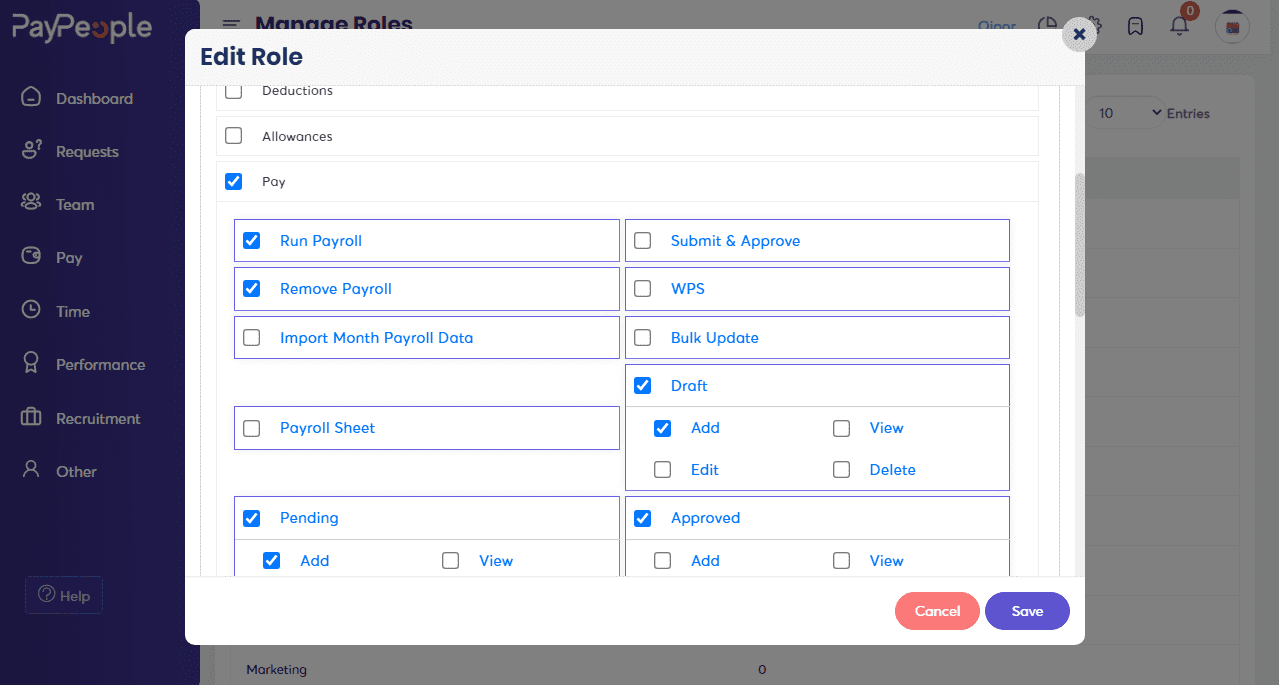 Location-based Documents
With the location-based document feature, organizations can store their internal documents, such as HR policies, in a central repository that is accessible only to authorized users from specified locations. This feature guarantees that all documents are stored securely in a centralized location, simplifying their management.
Monthly Inputs & approvals
You can now process monthly inputs for several work locations on Right Bases. These inputs may include financial data such as expenses and operational data such as sales figures, production output, and employee performance metrics.
Monthly inputs on the right basis help to add the payroll inputs regularly and consistently provide accurate and relevant information after approval from the concerned team to support decision-making and operational activities within an organization.
Payroll Dashboard >> Monthly inputs.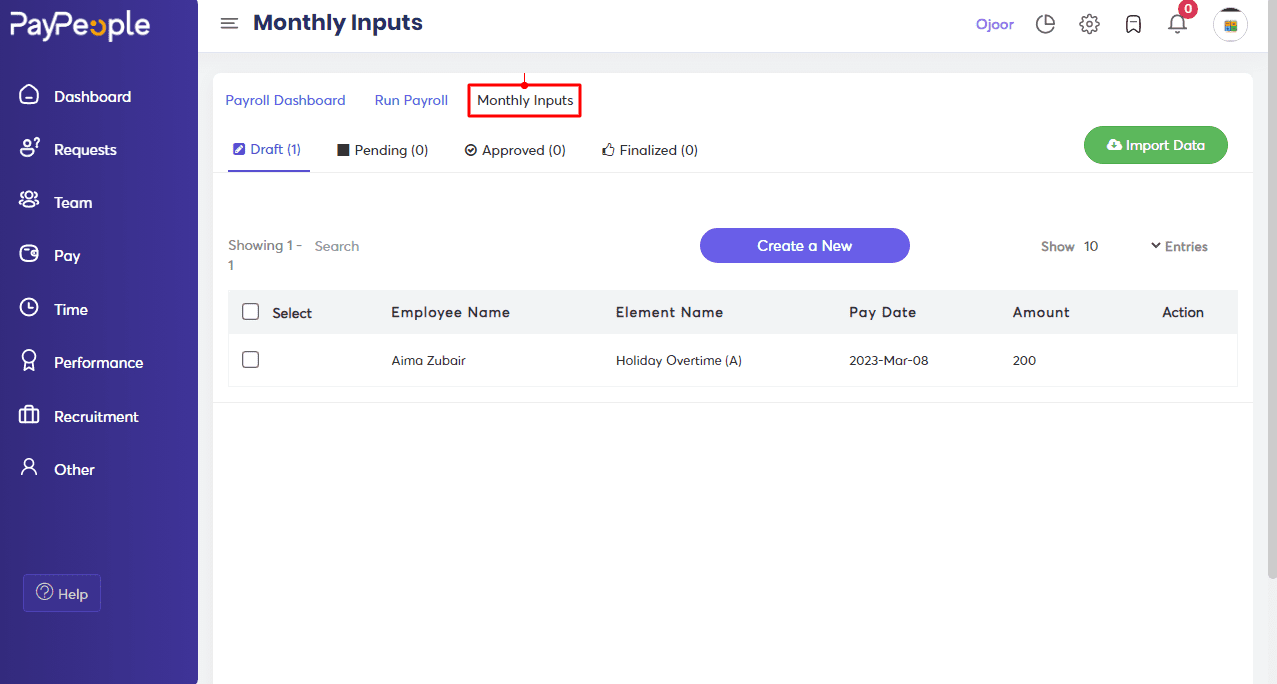 Click on Create a New to add the required values.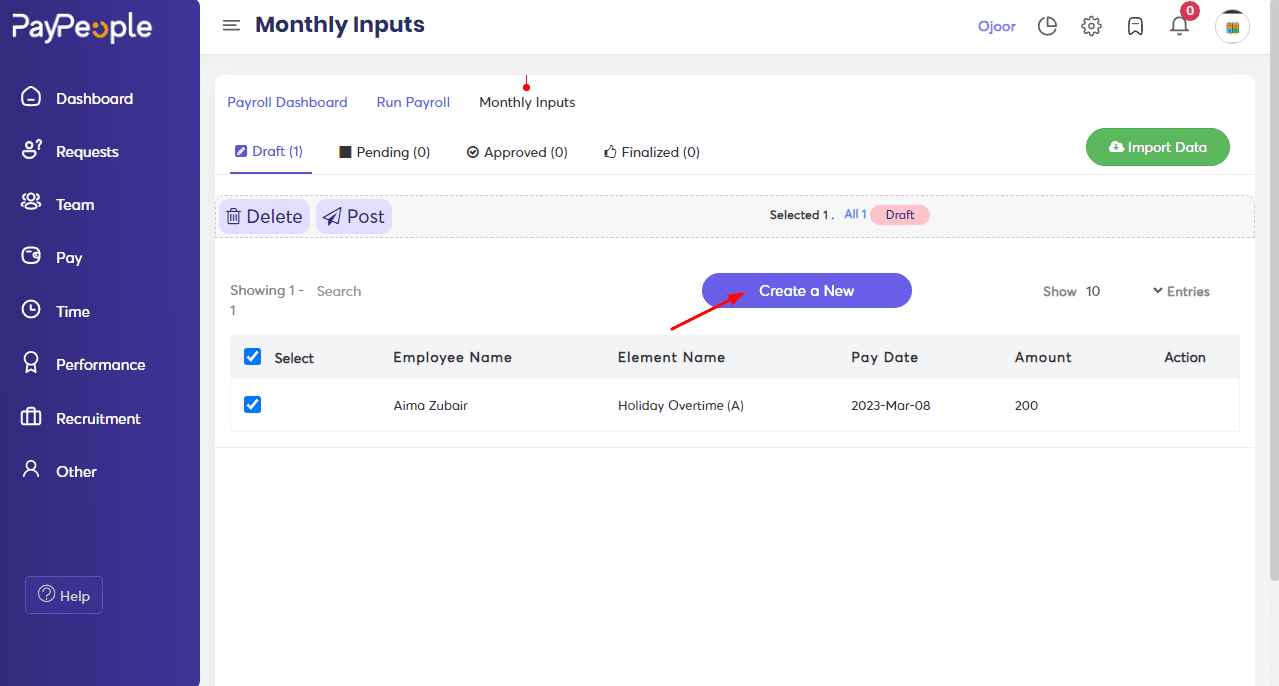 Draft >> Pending >> Approved >> Finalized.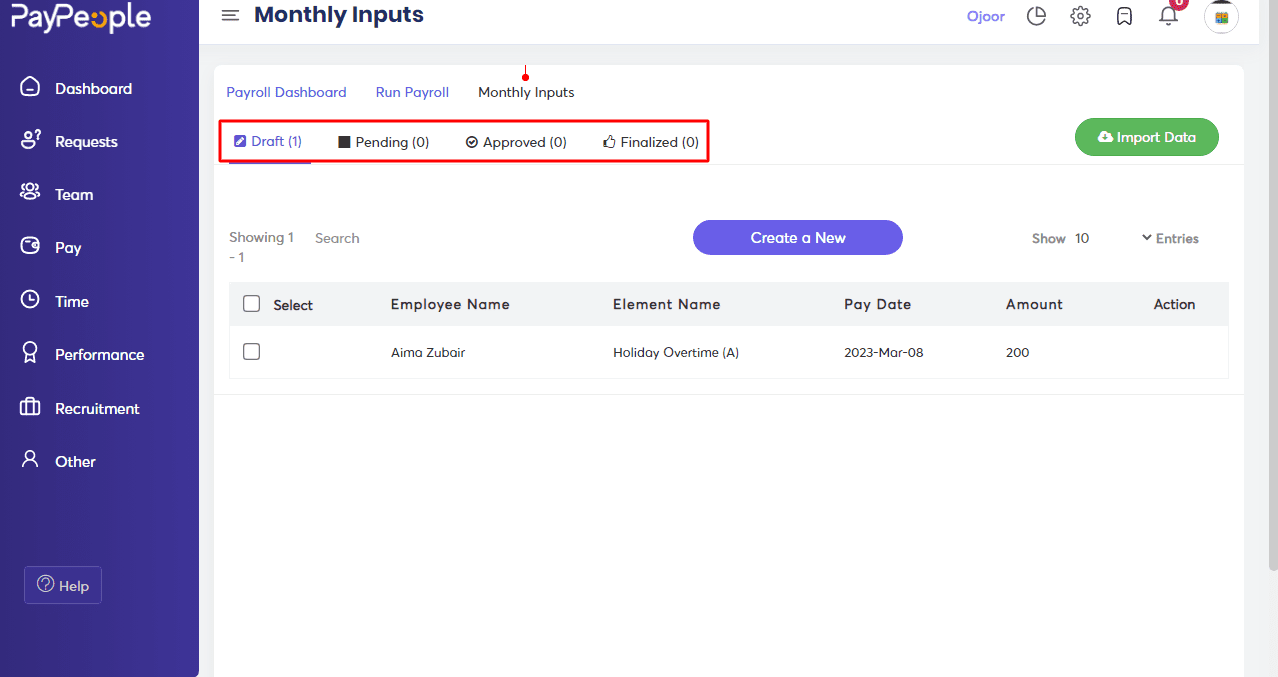 Draft:
When we run the Monthly Inputs Process, all employee monthly inputs are in the draft stage. In the draft stage, we can delete or post the monthly inputs.
Pending:
During the pending stage, the monthly information of employees whose imputed data is waiting for approval. Then, the designated person either moves the payroll from the pending status to the approved status or returns it for further action.
Approved:
In the Approved Stage, Approved monthly input data of employees can proceed to be Finalized or returned.
Finalized:
In the finalized stage, you can view the monthly inputs of all employees.
Import Button
You can add employees' monthly input data in bulk, through the import button.
Documents Expiry
The document expiry feature is a software functionality that helps organizations keep track of document expiration dates. It enables users to set expiration dates for various types of documents, such as contracts, licenses, certificates, and permits.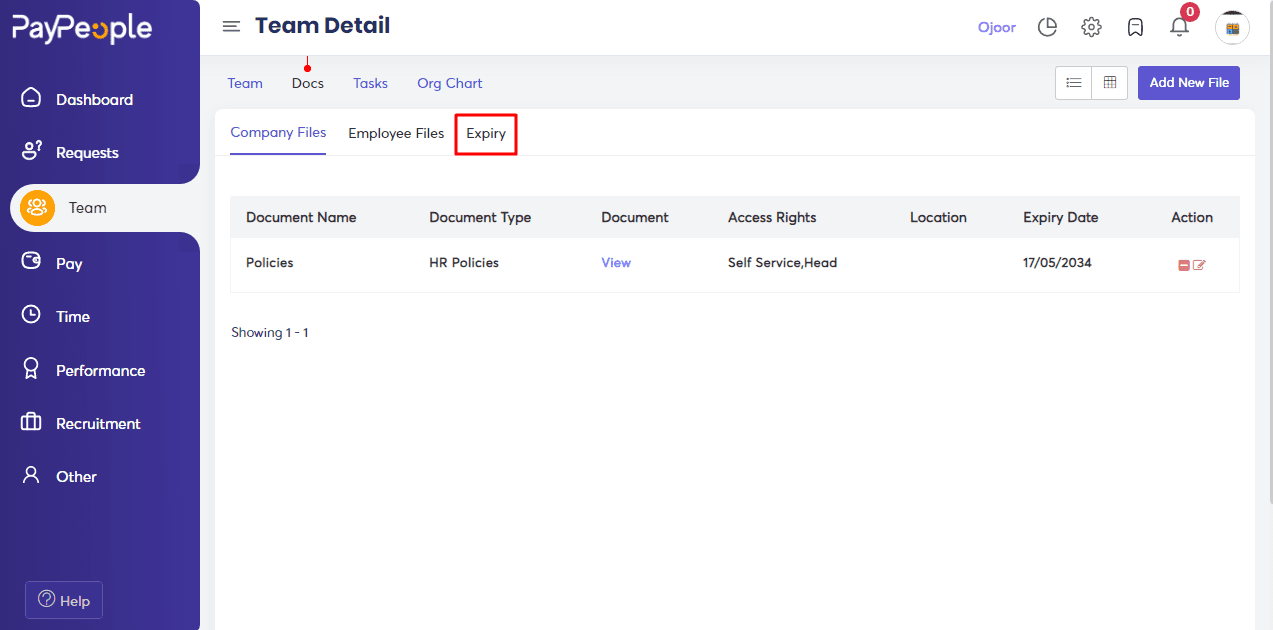 First of all, the user needs to upload a document.
Go the Edit Profile >> Docs >> then upload documents then select Doc type.
You can add doc type through master data.
Description, Expiry date, then Add New list then click on Save.
After that you have to go to Team >> Docs >> Expiry.
There are four statuses in Doc expiry.
Draft >> Pending >> Approved >> Finalized.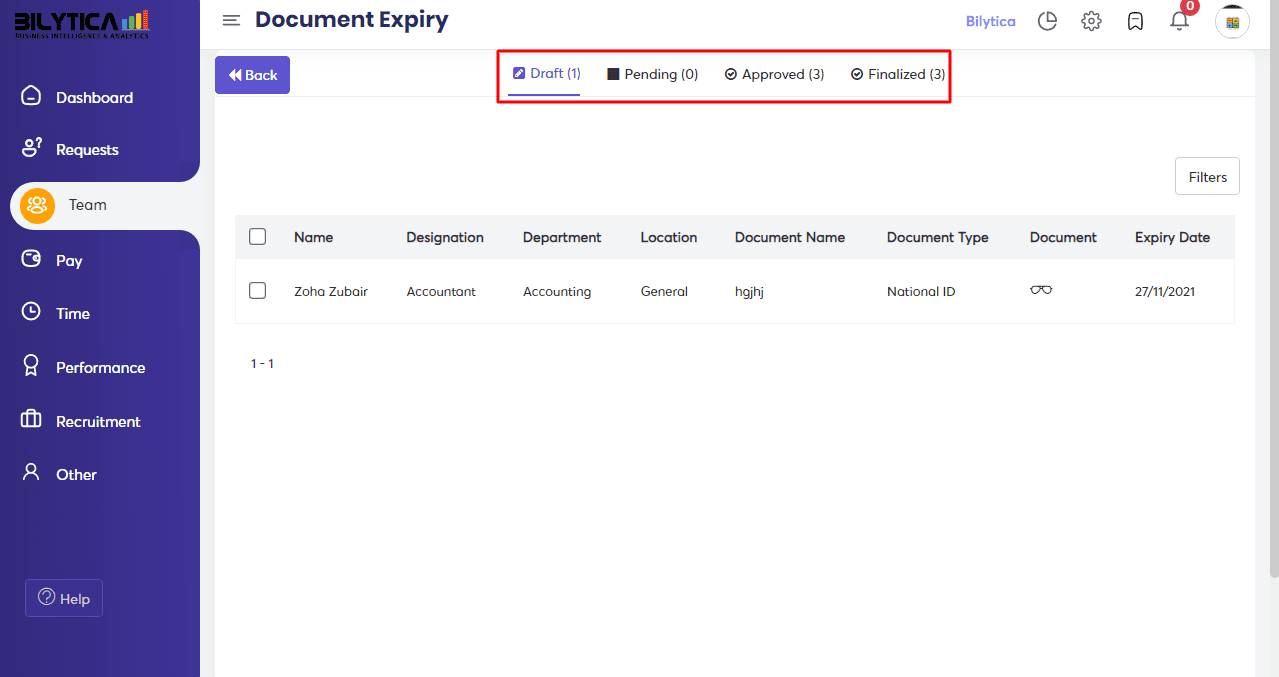 Filter button
This button will help you to filter document expiry days. After that, You can view
➢ Draft
In this Stage, the document will be shown on draft and you can Post Documents only.
➢ Pending
In this stage, you can add a Doc fee if applicable then Post it or return it through
buttons.
➢ Approved
In this stage, you can Add a new Expiry doc then Post it or return it through the
buttons.
➢ Finalized
In this Stage, you can only view Finalized Documents.
Off-Cycle Payroll
Off-Cycle Payroll
Off-cycle payroll is a type of payroll that is processed outside of the regular payroll schedule. It can be used to pay employees for special or one-time events, such as bonuses, commissions, or overtime payments. The off-cycle payroll hierarchy includes four stages: Draft, Pending, Approved, and Finalized.