Run your payroll 5x faster in Pakistan
Forget paperwork. Run payroll without mistakes
Always up to-date tax rules of Pakistan
Use employee phone as attendance device
Monitor remote & in-office workforce with ease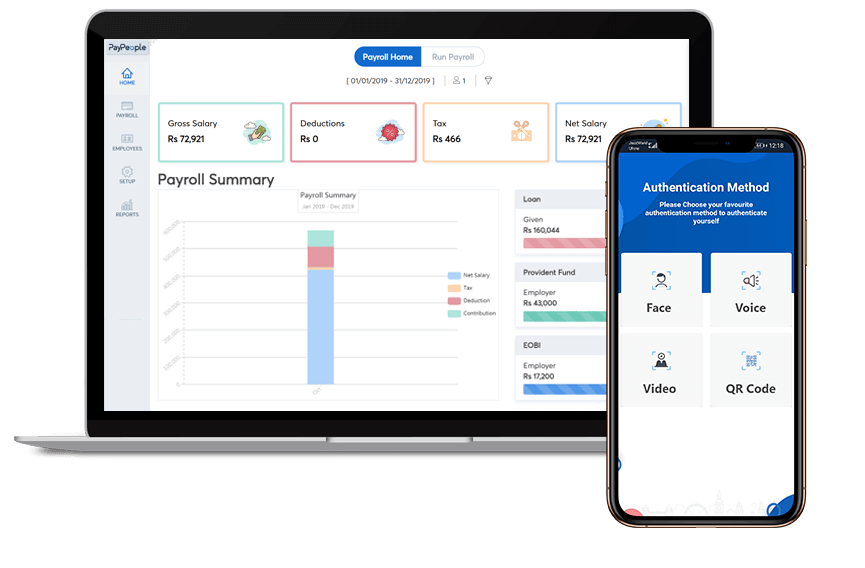 Over 500 organizations in Pakistan rely on Paypeople
Market shaping digital HR in Pakistan

Online Payroll
Easiest payroll in Pakistan. Experience PayPeople with single-click payroll processing

Safer Workplace
Integration with Thermal Devices. Mobile App with Facial Attendance

Innovative Attendance
Manage Attendance of Employees by Video, Face, Voice, QR after Covid-19
Introducing the smartest technology of facial & voice attendance
Good bye to biometric devices, use employee phone for attendance
Reasons why 500 companies trust us!

100% Pakistani Law Compliant
PayPeople takes care of all the compliance; including Income Tax, EOBI and PF with zero paperwork. All statutory forms and bank files are auto-generated every month.

Ease of Use
Import all your employees and see all their information presented in a concise manner. All your employee information stored in one central location and accessible from anywhere.

Fully Configurable
You can adjust the software to suit payroll needs. PayPeople is All-in-One Payroll with everything needed to run your payroll, whether you have 20 employees or 20K.

Contactless Attendance
After these turbulent times of Covid-19, with PayPeople, use Employee's phones as attendance devices for video, face, QR & voice Attendance. Track hours from devices & calculate in a fully-integrated cloud system.

Secure Cloud
All sensitive employee information is secured using bank-grade encryption and privacy protection measures. We have dedicated network security team managing cloud and backups of data.

Awesome Support Team
All our passionate teams are dedicated to ensuring customer satisfaction and success at every stage. We developed proprietary tools and methodologies to support any number of customers.
The best pricing, so you can focus on your growth
Dedicated Support team for you
Do I need to install any software?
Who will keep Payroll Rules of Pakistan updated in PayPeople Software?
Do I need to enter my Credit Card details to sign up?